The Edinburgh DMU Story - by Alan Rintoul
---
Part One
The Edinburgh DMU story starts in 1956 when one of the original Metro-Cammell Lightweight sets made up of DMBS E79055 and DTC E79261 were trialled on the Corstorphine - North Berwick and Waverley - Galashiels via Peebles lines. The public liked these new trains with their clean and bright interiors, particularly the view ahead from the forward compartment through the driver's windscreen.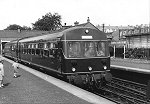 Right: 79055 is seen at Corstorphine. ScR Official Picture, courtesy of A.A.Maclean Collection
A few days into 1957, new Swindon Inter-City DMUs were introduced on the busy Edinburgh - Glasgow service, although these were slightly more austere in appearance compared to the Metro-Cammell set.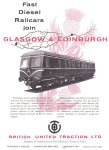 The opportunity to watch the road ahead was not available on these units as a guard's brake van was placed at the outer end of the car behind the driver's cab. The interior layout of these trains had much in common with the contemporary standard Mk. 1 coaching stock of the period with second-class accommodation in open saloons and first-class in six-seat compartments. The bogies on these units were rather rough riding at speed and certainly not an improvement on the Gresley-bogied stock the DMUs replaced, but once again the generally smoke-free interiors and provision of a buffet car in the sets endeared them to the public and a significant increase in passenger numbers was achieved following their introduction.
To service the ever-growing fleet of diesel trains, the former terminus station at Leith Central was converted into Scotland's first diesel depot with the platforms removed and replaced by long storage roads with inspection pits.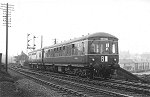 The next DMU type to appear were the Gloucester twins (later Class 100) which commenced service during 1957 on local services amid a blaze of publicity in the press. During the year the following services were dieselised: Corstorphine - North Berwick; Waverley - Galashiels via Peebles; Waverley - Musselburgh; the Suburban Circle and Princes St. - Leith North.
Right: A Gloucester twin, headed by 56314, departs Piershill on a Corstorphine - North Berwick service, 7th April 1958. Hamish Stevenson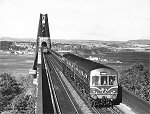 From 1958 the Gloucesters were joined by Metro Cammell twin and triple sets (later Class 101) which went to work on Edinburgh - Fife, Stirling, Dundee and Perth services. The Metro-Cammell sets were the most numerous build of DMUs and with their raked back fronts and aluminium-framed windows were a common sight in Edinburgh over the next 35 years.
Left: A 3-car Metro-Cammell set is about to come off the south end of the Forth Railway Bridge into Dalmeny station, heading towards Edinburgh Waverley. 26th October 1962. ScR Official Picture, courtesy of A.A.Maclean Collection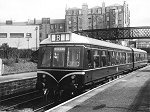 Deliveries from Metro-Cammell were obviously not quick enough for the Scottish Region to rid itself of steam locos on Edinburgh local services, so in 1959/60 a number of Derby twin sets (later Class 108) intended for the LMR were placed in service from Leith Central until the Metro-Cammell order was completed.
Right: one of the brand new 108s at Morningside Road on the suburban circle, heading for Musselburgh. ScR Official Picture, courtesy A.A. Maclean Collection