Description
These vehicles had one of the more unusual types of DMU body. The welded body framework, built up of solid drawn square section steel tube, formed a complete stress-bearing box girder for which no underframe was required. This method, introduced in 1936, was used in Wickham railcars for many parts of the world and was developed to produce a lightweight car of great rigidity. Care was taken to produce an internal finish that was easily cleanable. The almost complete absence of screw heads and moulding joints set a high standard for this type of vehicle, while there was a general air of spaciousness achieved by the scheme of decoration and in particular the shaping of the draught deflecting partitions at the entrance doors. The "art deco" interior made extensive use of Warerite plastics.
The construction followed in principle a design first adopted by Wickham in 1936 for use on a South American mountain railway, where weight saving was of vital importance. Vehicles were still in service by 1957 and the bodies had given no trouble at all. Similar sets were also working by that time in Bolivia, Peru, Columbia, Venezuela, Tasmania and in East & West Africa. No underframe was used, the all steel body skeleton formed a tubular stress bearing box girder designed to take all bending, torsional, buffing and traction loads. The various items of equipment were attached by means of steel brackets welded on as necessary.
The girder was formed from solid drawn square steel tubing with a wall thickness of approximately 1/8 in (10 gauge) and as each was, during assembly and welding, completely closed to atmosphere, no internal corrosion could occur. The skeleton of the power car weighed only 5 ¼ tons. The 16 gauge corrugated steel flooring was welded to the tubular longitudinal and cross frame members giving additional strength for taking care of buffing loads. The roof sticks on the cars were most unusual, and was due to the fact that most of the Wickham railcars previously built were shipped abroad to numerous different countries with different width and contour requirements, and so it was not practical to make press tools for every different type. The Class 109s had two flat members spaced apart by a zigzag strip and welded as a unit, which required only simple fixtures for manufacturing and was light and rigid. A load of 1 ½ tons spread over the centre six inches produced a deflection of only 5/16 in. A further advantage was the ease with which the wiring conduit, supply and control services could be run through the gaps.
This rigid stress bearing structure allowed the body frame to be initially fabricated in fully rotating fixtures by electric welding. Similar fixtures were used in the erection shop for easy fitting of wiring, pipework, engines and transmission, the cars being revolved to the most suitable position for the work in hand.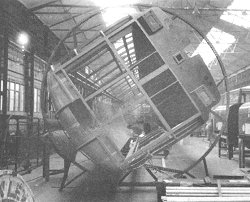 A vehicle in the rotary manipulator. Through the second mans window can be seen a man working with ease on the ceiling sections half way along.
Aluminium sheets were supplied by British Aluminium Ltd, who also supplied the aluminium tubes and sections along with Northern Aluminium Ltd. Asbestos insulation came from Sprayed Insulations Ltd. The square section steel came from Accles & Pollock Ltd. Fire protection equipment came from Graviner Manufacturing Co Ltd. The whole of the door locks were supplied by Joseph Kaye & Sons Ltd of Leeds. Both Docker Brothers Ltd and Vulcan Products Ltd supplied the paints and varnish.
Unusually, aluminium was used for the fuel and vacuum tanks, which were electrically welded by the argon arc process, and solid drawn aluminium tubing was used for the vacuum brake pipe layout. Compressed air control piping was of solid drawn steel tube, thought to eliminate to a large degree troubles caused by scale loosening and choking control valves. Ermeto couplings were used for connections.
Load Testing
This comprised strong-backs distributed over the railcar floor area, spring loaded bolts being passed through this floor and attached to eyebolts grouted in concrete. Load was applied by hand wheels on each strong-back through calibrated springs, the body skeleton being supported at the bogie centres.
Integral body frame under load testing. Note the spring-loaded bolts along the vehicle floor are attached to the floor of the workshop.
Bogies
The standard Derby design bogies were used, with a wheelbase of 8' 6", modified in certain details by welded assemblies in place of riveted construction and the fitting of Woodhead-Monroe hydraulic shock absorbers between bolster and body. Lighter springing was made possible by the weight saving method of construction. Trial runs showed the riding and general performance to be very satisfactory. Rubber mouldings were supplied by Waterford Rubber Manufacturing Co, and springs from Turton Bros & Matthews Ltd and Jonas Woodhead & Sons Ltd.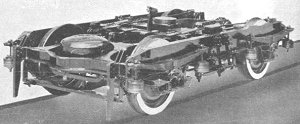 The top design speed of the unit was the standard 65mph at maximum governed engine speed of 1,800rpm, although as the tare weight of the car and trailer was only just 47tons the manufacturers confidently expected better acceleration and lower fuel consumption.
Brakes were the standard Gresham & Craven Ltd quick release system. Buffers were supplied by Oleo Pneumatics Ltd. British Timken Ltd supplied the axleboxes, with John Baker & Bessemer Ltd supplying the wheels and axles. Speed indicator equipment came from J Stone & Co Ltd. Steel castings came from Lake & Elliot Ltd. Screw couplings came from W&E Moore Ltd, and compression joints from the British Ermeto Corp Ltd. Aluminium pipe fittings were supplied by William E. Cotton Ltd, and the heaters by S Smith & Son Ltd.
The engines, transmission, control gear and heating followed the British Railways standard design and was supplied by British United Transport. They used the 'L' type 150hp engines with fluid couplings each driving via a cardan shaft an air operated four speed Wilson epicyclic gearbox, the drive from each gearbox to its adjacent bogie was by Hardy Spicer propeller shaft to a BUT double-bevel reverse box mounted on the inner axle. The various auxiliary drives to fan, Stone dynamo and Clayton exhauster also followed the standard pattern.

The rotary manipulator allowed this view of a DMBS underframe before the engines were fitted.