Non-passenger Use
50416/56171 were extensively overhauled in 1967 at Doncaster, revamping the interiors and adding kitchen facilities added to 50416. After repainting, the set was used as the ER General Managers special train, now numbered 975005 / 975006.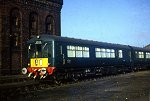 Left: The set seen at Doncaster soon after conversion. David Faircloth
The set fell out of use during 1980 and stood at Stourton, Leeds for some time. During that period the set suffered slight damage and was offered for tender in the summer of 1981.
Bought by the Chasewater Light Railway, the vehicles left Stourton in August for repairs at Lincoln, then passed through Tinsley on its way to Wolverhampton steel terminal in September, and on 7/10/81 the vehicles went by road to Chasewater.